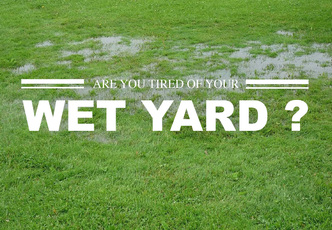 Wet yards tend to be a issue for many, especially in and around New Bern, Craven County and Pamlico County. Take charge of your yard and let Reed Landscape design you a custom drainage system that works best for you.

Reed Landscape likes to remember one useful idea when it comes to drainage solutions. Water runs down hill! Water can be a danger to your property and your home. We take pride in solving your water problems with innovative and cutting edge solutions. We have a qualified staff to design and implement landscape drainage solutions to meet your specific site needs. Many situations can be quite a challenge, considering how flat most areas of Eastern North Carolina can be.


We can help protect and preserve your home and landscape with best practice drainage design and installation. We specialize in french drain systems, surface drainage systems, and water control practices like proper grading and runoff design. We can design and install our drainage systems in existing landscapes, or we can design and install them into your new landscape design. Drainage is not the most beautiful or eye catching of our many services, and for the most part goes mostly unseen, but its impacts are certainly some of the most important.

We can help correct your existing drainage issues and prevent new ones from happening. Our comprehensive drainage solutions include complete below-grade drain and pipe systems, storm drains, french drains, or any custom work you may need.

---
---
Reed Landscape has had great success installing a product called Aqua-Drain when a french drain application is required. The product is installed with much less disturbance to your existing landscape and at a gentler cost than a conventional french drain system. Give us a call and we'll design and install a custom drainage solution for your home that will make your yard safer and let you enjoy it even during the wetter months of the year.