Landscape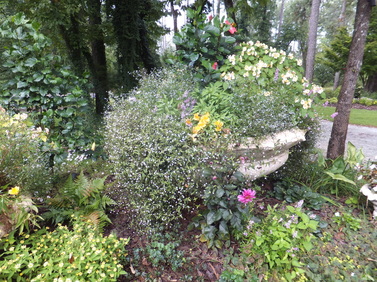 Large planters add needed depth and height to the garden
Plants are central to a functioning global ecosystem. Plants oxygenate the atmosphere and reduce atmospheric pollutants. Reforestation in both developed and developing countries is a primary strategy for mitigating the effects of man-made greenhouse gas (GHG) emissions. However, plants are not only key to the global ecosystem, but also crucial to human health.

Through "integrated site design," a comprehensive approach to sustainable building and site design, sustainable residential landscape architecture practices can not only improve water and energy efficiency, but also use plants to eliminate chemical fertilizers, produce food, restore ecosystems, and clean air. If part of a broader integrated site design, sustainable residential landscape architecture can extend the many benefits of plants.


Plant material selection is critical to both the survivability and aesthetics of a landscape design. At Reed Landscape, we select species that are both hardy and unique for your garden. We purchase always healthy and pest free material from quality nurseries across Eastern North Carolina. Some of the nurseries we use quite a bit are Casey Nursery in Goldsboro, Panther Creek Nursery in Willow Springs, and Plantworks Nursery in Rougemont, NC. Locally, we buy outstanding plant material from Pinecone Perennials in Fort Barnwell. If you are one who wants your garden to be the envy of the neighborhood, let Reed Landscape help.
---
---
Reed Landscape created a spectacular design. Our home has a street presence unmatched in our community. They listened to our requirements and incorporated them in the design. The quality of the sod and irrigation system is excellent. They stand by the guarantee, having replaced several non-performing shrubs immediately after we called to inform them of the problem.

-Christine Nelson and Lawrence Dowdy, Carolina Colours
---