Water Feature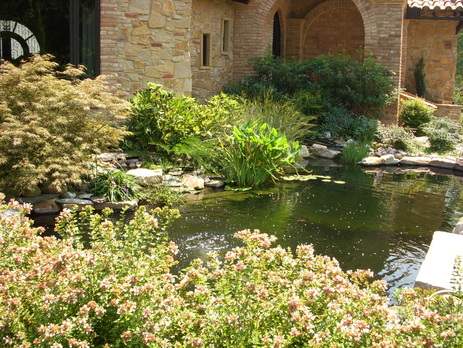 New Bern Koi Pond with two subtle waterfalls.
Enhanced landscaping improves property value, and water features make your property stand out from the rest. A simple water feature in the front yard can provide added curb appeal, while a backyard Koi Pond or Water Garden can increase a home's value much like a deck, patio, or gazebo.
The sound of a water feature can help drown out noise from traffic or neighbors, or you can opt for a gentle, more restrained sound of running water with your feature. In addition, water features provide an interesting backdrop for entertaining while adding aesthetic appeal to your landscape. Waterfront property is a prized commodity and you can easily incorporate water into your outdoor living space without having to move near a lake or ocean.
Reed Landscape has installed many water features that add to a home's aesthetic and ambience. Kids and grandkids love to spend time around a Koi Pond.
---
Excerpt on potential health benefits of keeping koi -
"...Koi fish pond owners report that having a personal pond to enjoy at their leisure allows them to relax and reduce the amount of stress that the average always-on-the-go lifestyle that most of us lead can cause. De-stressing near the water's edge is also a time for getting in-touch with one's inner- spiritual self as well. Many of these Koi fish pond owners share that they feel "rejuvenated" after spending quiet time near their pond. They report a sense of "centeredness" and feel they are more capable of handling the stresses of everyday life head-on. Some doctors have begun to voice their opinions about the benefits of having a personal Koi fish pond. They have gained these opinions by witnessing improvements in such medical conditions as high blood pressure, anxiety disorders, and some heart conditions in patients known to have their own personal pond. Stress can exasperate these conditions and doctors are always looking for ways they can recommend to their patients for reducing the amount of stress in their lives for better health. Doctors have even found that many stroke and heart attack sufferers recover sooner when they have an area they can access frequently for relaxation, such as with a Koi pond. "
-
http://ezinearticles.com/?The-Benefits-of-Koi-Ponds&id=449349